Gallery
New Life for a Mid-Century Legacy
A couple asked for guidance in house selection, and for design of renovations. For its outstanding views and mid-century design, Randy Hudson advised buying this house. The owners wanted to connect to the steep site for outdoor living, and to modernize while respecting the house.
The living (middle) floor received a new kitchen, family entry and rebuilt deck. On the top floor, Hudson combined 2 bedrooms into a new master suite with panoramic windows. The lower level has an office, recreation area, and patio. The house received new baths and doorways. Paneling and oak floors were refinished. The owner air-conditioned the house via a split system added to existing radiant heating, upgraded with an ultrahigh-efficiency boiler.
Mahogany siding was repainted and partly replaced with cedar, and roof/wall insulation added; windows and doors were replaced. Nodding to the house's soft modernism, its "ladies' white glove" board railings were maintained.
A new 1-car garage is set off from the house by outdoor stairs and a view slot to the mountains. The front yard's boldly graphic driveway and lawn contrast with the lush, private rear yard.
Renovation and Addition 3100 sf
High-Performance Home: Passive Solar Design in a Traditional Package
A family needed a house with an artist's studio. Designed as a compound, the house, garage and studio buildings are separated for views and appreciation of the setting in all weather. Snug living and family spaces with beamed ceilings face south. The breakfast area faces the morning sun; a deep porch provides summer shade for the living room. A double-height dining room separates the children's bedrooms above from the parents' bedroom suite.
The design greatly reduces the need for fossil fuels; windows admit winter warmth, and superinsulation and north-facing service spaces buffer the house from winter cold. A Rumford fireplace and a woodstove are focal points of family gatherings. A geothermal system provides efficient heating and cooling.
Materials, inside and out, are traditional: wood board-and-batten siding; local brick; reclaimed heart pine flooring. The property, with its native plants and natural meadows, is an NWF-certified Wildlife Habitat.
New Construction 4200 sf
Coastal Living Honors New England Architecture
A Manhattan couple planned to build a house in New Hampshire, in harmony with its rocky coastal setting near a historic village. Randy Hudson advised on planning, materials selection and architectural choices to help them achieve the authenticity they were seeking, and to ensure that the space layout worked with the way they lived.  A local architect was responsible for the overall plan, design and construction documents.
The land side of the house contains entryways, kitchen and service spaces. Living areas are ranged along the sea side. The breakfast area, dining and living, and bedrooms overlook a tree-framed inlet. Transom windows allow daylight from the high ceilings to flow between rooms.
New England architecture informed the choice of materials. Exteriors are clad in painted cedar shingles with wood trim. Local granite forms the steps, site walls and paving. Construction documents were executed by Architect of Record DeStefano Architects.

New Construction 4500 sf
Farmstead in Wildlife Habitat
Randy Hudson was engaged during construction to plan materials, details, finishes and colors for this new Net-Zero Energy "modern American farmhouse" and 57-acre organic farm. In addition, Randy developed outdoor pathways and spaces including patios, decks and walks, to take advantage of the stunning views.
Exteriors include fiber-reinforced cement board-and-batten siding, stucco walls and slate patios. Interiors include hickory floors, wood roof trusses, plank ceilings, and Shaker-inspired door and window detailing.
New Construction 2200 sf
Hamptons Cottage Interior Remodel and Energy Retrofit
The architect's family house on Long Island's East End had been neglected, but it was attractive and well-built. With a limited budget, priorities were set: Phase One was to restore the home for comfort and attractiveness: Replace kitchen and bathrooms; provide new window treatments; repaint interiors. Phase Two was replacement of the oil furnace and hot-water radiators with an energy-efficient geothermal HVAC system with internet-monitored functions. This entailed significant wall patching and repair in all spaces.
Several partitions were removed for better daylight and furniture layout. Simple design, and a minimal material and color palette, reflect the house's New England origins.
Older trees and plantings were selectively edited out and replaced with new native and flowering species.
Renovation 1500 sf
'Tuscan' Retreat on a Pennsylvania Hilltop
This new house, on a 14-acre rural hilltop, is designed for year-round outdoor living. A living wing and a sleeping wing wrap around a south-facing entertaining terrace, sheltering it from prevailing winds. An outdoor fireplace anchors the space.
Living spaces are open from the breakfast area through the kitchen dining and into the living room, which has wood-clad tray ceilings. The house has supplemental heating from a Rumford fireplace and a woodstove. Floors are reclaimed antique pine planks.
Their children now grown, the owners operate the house as a destination bed and breakfast. The wife, a master gardener, manages extensive flower and kitchen gardens; fragrant herbs line the spaces between the entertaining terrace's paving stones. A dining pergola overlooks rolling hills toward the sunset.
The house is wrapped in natural materials including cedar siding; local brick foundations and fireplaces; and native bluestone walkways, terrace and entry porch.

New Construction 3700 sf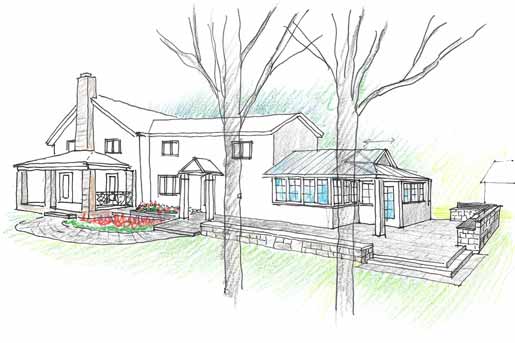 Home on Register of Historic Places
A house on a historic estate required an updated farm kitchen, and interconnected indoor and outdoor entertaining spaces. New entrance area, with terraces and walls from stone quarried from the property. From design sketches, builders carried out the project.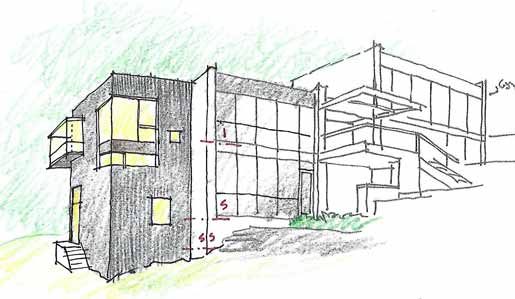 Tower Addition for a Modern House
A designer and an artist had remodeled a mid-century modernist dwelling, integrating it with its sloping site. They needed additional space for their visiting grown children, and added workspace for themselves. A new master bedroom, bath, studio space and stair gallery are planned. These create new views and relationships to the home's intensively terraced gardens and outdoor spaces.
Of paramount importance is flex space. Working, entertaining and sleeping areas are designed and equipped to adapt to spur-of-the-moment events and long term conditions.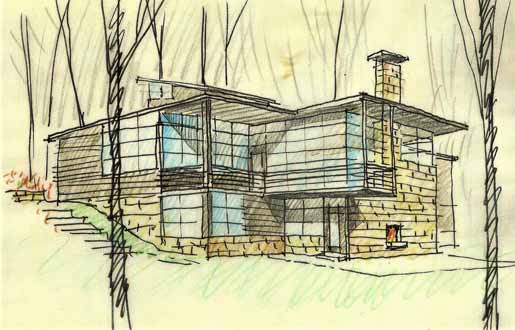 New Home Fronting on Wooded Reserve
This house, on a sloping site, accommodates an empty-nest couple with grown children who return often. The wife, an accomplished gardener and homemaker, runs an in-home bed and breakfast. The husband is an educator and amateur musician.
The design is zoned for guests and music on the walkout level below, and "tree house" living areas above, with views to a public reserve. A tower offers a place for yoga and quiet retreat. Outdoor patios and a fireplace offer gathering places adjacent to the gardens and park.
A geothermal HVAC system and passive solar heating increase comfort and energy efficiency in all seasons.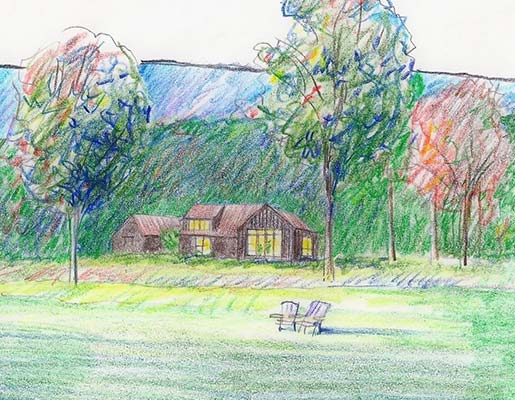 Wood and Meadow Dwelling
A woodland home, at the edge of a large meadow with a stream, was opened up to its setting. Enlarged windows and a generous bedroom dormer admit daylight and views. A former garage becomes a soaring living room, with exposed structure and a new fireplace.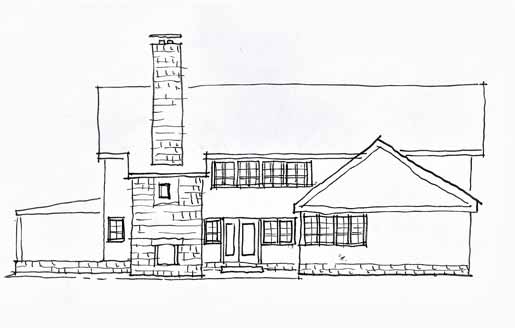 New House for a Historic Farm
This family homestead had a long history. Originally the estate of a 19th-century ironmaster, a pioneering model farm was added in the early 20th century. The current owners requested a new home that would recall both the vanished structures and respect its remaining historic neighbors.
On the first floor is a master suite. Living and entertaining spaces connect to generous stone porches and patios. Unstairs, bedrooms are arranged along a north-lighted gallery that doubles as play space for visiting grandchildren.